Just like buying a home is often a once-in-a-lifetime decision, investing in a commercial property is also a dream buy for many. However, before taking the plunge, one needs to obtain and scrutinize a number of critical documents carefully to avoid needless future hassles.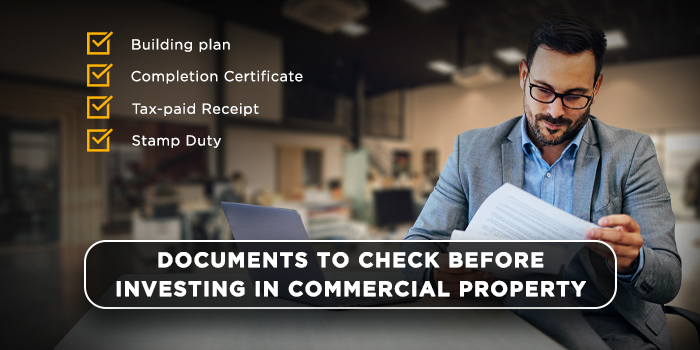 The first step is to verify whether the property is sanctioned for commercial use or not. In case it isn't, commercial conversion is absolutely imperative for the land. If it's listed as a commercial property, it should have valid ownership titles and all the necessary government approvals.

The documents checklist

Here is your checklist of essential documents you must have before the transaction:

#Mother deed: This document is supposed to chronicle the history of ownership of the said property, right from the beginning. It is extremely important to establish new ownership and ensure smooth onward sale of the property. In case this document is missing, copies can be obtained from the registering authorities. The most important element here are the details of the last ownership in a continuous sequence, to avoid future issues.

#Sale deed: The sale deed is proof of sale and transfer of ownership of the property from the seller to the buyer. Before execution of the deed, it is extremely crucial to check all the terms and conditions spelt out, including a clear title. In case of any encumbrances, the buyer must be made aware of it in the sale deed. This document must be registered and is mandatory for any transaction.

#Building plan: The building approval plan must be sanctioned by the appropriate civic body and the owner of the property should get the approved plan from the competent authorities before transaction. Plans are approved based on a clutch of factors including location, width of road, etc.




#Encumbrance certificate: This document lists liabilities and ownership charges that come with the property and is held against any property loan as collateral.

#Completion certificate: This is an absolutely critical document issued by the local civic body, certifying the property as fit to be occupied without any problems. This is a legal clean chit and is vital to obtain power and water connections.

#Tax-paid receipt: Before completing the transaction, one must ensure that all taxes on the property have been paid till date. Hence the need for the tax-paid receipt.

#Power of attorney: This legal document signifies granting of authority to another person by the property owner. This is useful to the buyer for transferring of right to the property from one person to another.




#Stamp duty: This levy is a form of one-time tax collected by the government to record the name of the buyer in the official records and is a very critical legal document.

Before completing the transaction of a commercial property, you must ensure that all these above documents are in your hand for complete peace of mind.