Home buyers are getting younger. Recent studies have revealed that the average age of the Indian home-buyer, which used to be 50-plus earlier, has plunged to the early-30s and even late-20s. Millennials (those born between 1981 and 1996) are driving growth in the property market and being 34% of the population (a whopping 450 million-plus), they are expected to keep propelling the residential realty trade forward over the next few years.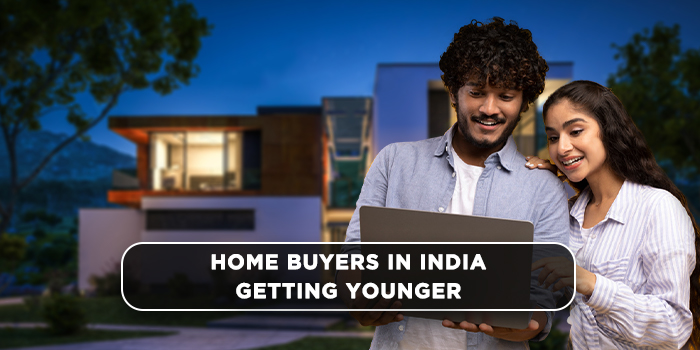 One of the most decisive triggers has obviously been the pandemic. In fact, the millennials accounted for almost half of all properties sold in 2020. Clearly, this is a very critical demographic and many of these young professionals realized the need for their own property during the tough lockdowns and work-from-home protocols precipitated by Covid-19.

A number of other factors have been driving traction from young home-buyers, including low interest rates, health concerns, family pressure and a stable income structure, particularly in the IT/ITeS sector, which employs a large chunk of millennials and has been extremely flexible with remote-work options to curb attrition. Also, obtaining home loans is much easier for youngsters, and the average age of home loan borrowers has also come down drastically, with even 23 to 25-year-olds going in for home loans. Besides, home loans cascade into tax benefits.

Earlier, the young professionals would prefer investing more in asset-class instruments like mutual funds and stocks, but these options aren't as stable as before. On the flip side, housing is still considered the most stable investment, since the realty market has largely managed to bounce back from the pandemic and also the withstood the blowbacks of the Ukraine conflict.

Another trend among young home-seekers is that they don't necessarily want to live in the heart of the city or downtown areas anymore. Instead, they are happy residing in the fringe areas or suburbs, where property prices are much more affordable. Also, with the now-must-have flexibility to work from home-offices, small flats are out and 2.5 to 3BHK apartments are in. Real estate developers around the country are already reorienting plans to meet the rising demand in this segment.

What features do the youngsters fancy in their new homes?

# Millennials are tech-savvy and want all the creature comforts smart home features can provide by being electronically and digitally-enabled.

# They are environmentally conscious and often prefer green homes which don't impact the environment adversely.




# Young home-buyers are not averse to staying in peripheral areas, but there should be comfortable connectivity with the city, to avail of shopping and entertainment options during their downtime.

# Youngsters are also much more health-conscious these days. Hence while looking for homes in leafy and less-polluted localities, built-in facilities like gym, swimming pool and tennis courts are often attractive value-add.

What is the outlook with millennial home-buyers?




Industry experts concur that such is the innate strength of the millennial demand for new homes that all real estate developers must re-calibrate their growth strategy to make this demographic the spearhead of their consumer base and design new supplies accordingly. This means catering to the specific demands of this age group, understanding their needs and aspirations and customizing the apartments/bungalows to satisfy those wants. After all, the millennial home-seekers will continue to have a huge say in moving the needle in the residential property market for years to come.