Kolkata is presently home to more than 15.5 million residents and the number is summing up. One of the well-known cultural capitals of India, Kolkata has immerged as a thriving job market for people from all diversity in the past few years. Real estate has emerged as a very successful business in Kolkata and the realty segment of the city offers a wide range of options, i.e. properties available on rent, lease and purchase.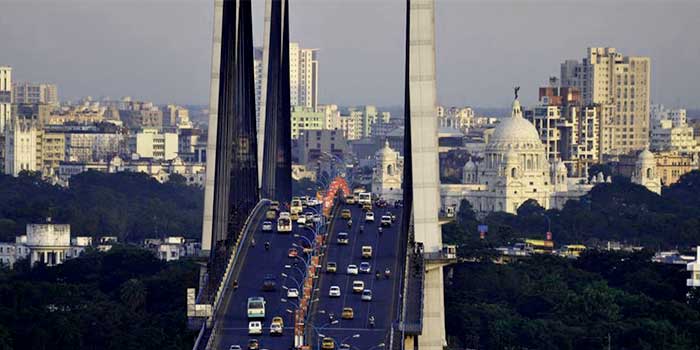 Residential apartments, office spaces, industrial setups, independent homes, commercial spaces, and lands constitute to realty market significantly. Most of the property transactions are facilitated by professional real estate consultants. Interests of multinational organizations have changed the outlook of people towards commercial real estate in Kolkata, and this has contributed to an increase in the property value in more positive way. The retail segment remains one of the top favorites of home buyers and hospitality business ranks second. In recent times, Kolkata has also witnessed the construction of some sky-scraping shopping malls and hotels. A hike of 5-15% on the capital value of residential properties expected in the near future.

Property Distribution- Capital Value In terms of property market trends, the City of Joy is poised to attract potential home buyers with its wide variety of housing options, from affordable to premium as well as luxury. The north-east Kolkata to New Town and south-west Kolkata to Joka regions in Kolkata are driving housing demands, and are key property corridors in the city. Housing projects in Kolkata are equipped with better connectivity due to planned and upcoming metro rail projects, and the development of social infrastructure. Commercial and IT/ITES hubs coming up in the extended part of Kolkata are fueling affordable housing hot spots as well as luxury living areas too. Most of the young aspirant residents of Kolkata are realizing their dream of being homeowners in the residential projects all around Kolkata driven by the affordability and quality of life that the city offers.

Demand Distribution of Properties:

The stability of the real estate market of Kolkata can be understood by this fact that even the global recession period could not disturb the real estate industry here. Undoubtedly, Kolkata realty sector is buzzing with new projects that have acted as a catalyst among the buyers and investors. Builders in Kolkata have received a heart-whelming response from the investors for sky-scrappers and other high-rise buildings, thereby boosting demands for properties. The demand for properties is soaring high with different space range.

Kolkata's present infrastructure and connectivity have played an important role to boost up the real estate sectors. Kolkata Municipal Corporation is working on a number of projects for adding values to infrastructure within and beyond the city limits. One such development is the East-West Metro Corridor that starts from Howrah Maidan to Salt Lake sector V via Teghoria. Also, the metro rail network, which is India's oldest metro network, is all set to expand and five new metro lines are planned, which will connect the IT hubs at Salt Lake, Noapara, New Town and Joka. All in all, it can be concluded that the growth in the realty segment of Kolkata is mainly attributed to the following factors:

- Lower land acquisition costs compared to other metros.
- Lower asset costs.
- Presence of scalable infrastructure.
- Active involvement of government authorities with several initiatives and policies.
- Increase in demand and price of properties.
Disclaimer: All the facts and figures are based on secondary research. We hold no responsibility for the reliability and authenticity of the data.