House-hunters are often vexed by the dilemma of choosing between a ready-to-move-in property and an under-construction one. However, the pandemic has swung the pendulum emphatically towards the ready-to-move-in (RTMI) segment. In a survey conducted by Pioneer Property Management Ltd, almost 75% of aspiring home-buyers would like to choose an RTMI option at this juncture, particularly risk-averse customers.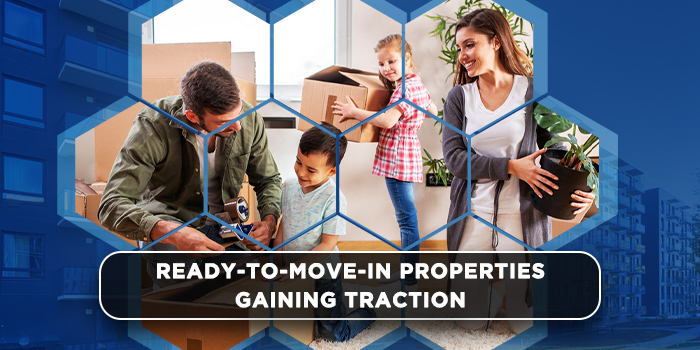 There are a clutch of benefits that are luring the home-buyer towards RTMI properties. The first and most tangible advantage is you get and pay for what you see and not fret over unfulfilled promises in the prospectus or potential changes later. Besides, one can check out the final product in relation to the locality, quality of construction, the neighbours, social infrastructure, etc. And of course, your rental outgo can stop immediately if you want to move in right away. A ready property also rules out delays and cost escalations.

While those looking at a new property as an investment option might still consider under-construction projects, the actual end-users are increasingly plumping for a ready apartment, thus able to own an immediate real estate asset.

This customer trend has also forced a rethink among real estate developers on the strategy front. So the focus now has shifted firmly to existing inventory, which for many are substantial in size, with new project launches often being put on the backburner. To clear the supply overhang, many developers are offering sops to the buyers in the shape of reduced stamp duty, 'move in now and pay later', lower interest rates and other benefits to sway customers.

What are the advantages of an RTMI property?

# Immediate possession: As the label 'ready-to-move-in' suggests, you can take possession of your chosen apartment/house immediately and start living there, as opposed to an under-construction property where you might have to wait for years before you get possession.




# Mitigates risks: Sometimes there can be an inordinate delay in construction and delivery of a property and one could incur huge losses in the process. There have also been instances of projects being abandoned midway, leaving the buyer stranded. An RTMI home mitigates such risks.

# No more house rent: Opting for an under-construction property often means you have to carry on paying your rent as well as your EMIs till such time you get possession. However, in the case of an RTMI home, you can move in immediately and stop paying rent.

# You get what you see: When you are investing in an under-construction property, it's often based on a brochure or an AV content or perhaps a model flat. The actual product when delivered can look and feel a lot different at times. However, in an RTMI apartment, you get to see the finished product, the actual apartment you will be living in. This helps you make an informed choice.

# Instant tax relief: You can claim tax benefits on your home loan immediately if you opt for an RTMI property on both principal and interest payment. On the other hand, for an under-construction property, you will have to wait till you get possession to enjoy any tax exemption.

# Assess ambient infrastructure: While selecting an RTMI property, you can easily evaluate and experience the immediate locality and its infrastructure, besides the in-house facilities of the project before buying the apartment/house.

# Stick to your budget: For any under-construction property, unforeseen delays can jack up the price significantly and you might have to fork out the extra amount that hits your budget for a six. However, in the case of an RTMI property, it's possible for you to pick a flat within your budget without the fear of cost escalation.

# Avoid GST: While buying an RTMI property, a customer at present doesn't have to pay any GST. An under-construction property, however, would have a 12% GST slapped on it. This can come to a really substantial amount.




# Enjoy rental income: In case you are not planning to live in the RTMI apartment immediately, you can start earning rental income immediately by letting it out. This can help you pay your EMIs.

# Re-selling is easy: Re-selling a ready property is much easier and hassle-free than selling an under-construction one. Sometimes one must wait till the entire project is complete before the apartment can be transferred.