An ideal home is a safe and secure place we can come back to. Yes, fancy features are always nice and gratifying. Sometimes though we tend to overlook the safety and security systems and protocols in place at our new apartment we are about to move into. This is all the more relevant in view of the rising crime rate and the complex nature of the offences these days. So while amenities and aesthetics are crucial, safety and security measures are of paramount importance.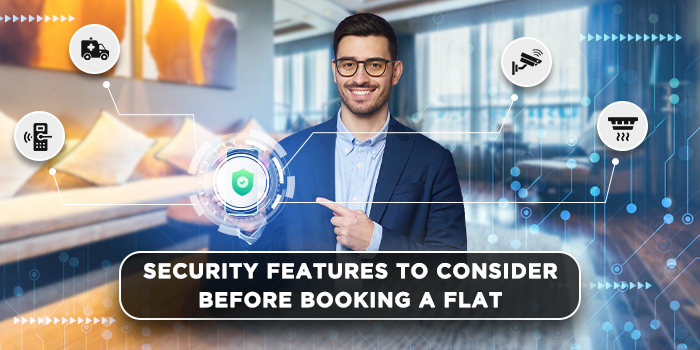 Police reports concur that most burglaries and other crimes are committed in collusion with those who have free access to the housing complex like domestic helps, drivers, cleaners, everyday vendors and the like. This is why a thorough background check on all of them should be part of the in-built checks and balances.

Besides some of the standard modern security protocols of having access-control system, CCTV cameras, security gates, smoke detectors, etc, many housing complexes use pre-fitted mobile technology-based security systems these days. Thanks to such a mobile app, you will receive information instantly when your guests reach your main gate and their entry is electronically recorded by the security personnel. Besides, other critical information like a 24-hour panic button to alert the security team, phone number of the nearest hospital for a medical emergency, etc are available on your hand-phone.

Some key security features to look out for in an apartment complex:

# External security: A gated community or a large-format housing complex is the craze these days, as a large percentage of home-seekers prefer an apartment in such a formatted project. The most critical security check points are the main entry and exit gates which should be manned by properly trained security personnel 24x7. If there are multiple towers in the complex, each tower should have a second layer of security check so that all visitors are properly vetted. All this has become much easier now with mobile security apps that can be installed on phones of all residents.

# Electronic surveillance: CCTV cameras must be installed at all the critical corners, inside stairwells, at car parking lots, along the perimeter fencing as well as the lift lobby of every floor. This ensures a multi-layered screening of all visitors and provides a sense of comfort and security to the residents, more so for the elderly staying by themselves.




# Internal security: When it comes to security inside your flat, a key feature has to be fire/smoke alarms. Using good and reliable door locks is another imperative and this includes not just the main entrance, but even your garage door. Many residents are now installing video door phones as an extra security measure.

# Seismic load-compliant: While no structure can be built to be completely earthquake-resistant, there are certain structural protocols to be followed by the developer depending on the particular seismic zone in which the project is located. In highly earthquake-prone regions, the building materials used must be much more ductile and elastic to withstand the tremor to the extent possible. In the unfortunate eventuality of the building collapsing, the damage and loss of lives/limbs can be minimized thanks to the use of seismic load protocols.




# Other common safety features: A gated community should have a clutch of safety and security features and protocols in place. These would ideally include fire and smoke detectors and alarms, an advanced firefighting system including automatic sprinklers, a well-orchestrated security drill for residents to be followed in case of an emergency, proper security instructions inside elevators in the event of an electrical failure along with fire extinguishers. Residents should also be given a list of emergency numbers including ambulance, nearest police station, fire department, etc.

# Secure play/activity zones for children: Young children are always bouncing around and hence susceptible to mishaps. That is why a good gated community should have designated safe play areas for kids. This could include cycling track, children's park, kids' swimming pool, playground, activity room, indoor sports facilities, etc.