When doing the interiors of our home, we often think about the shade of paint on the walls, the furniture in different rooms, the light fittings and the bathroom ware. We sometimes tend to forget the flooring in the bargain. However, the importance of choosing the right flooring for your new home can't be overemphasized. Doing your research right and finding out about the options available can help you choose the right flooring material and remain worry-free for years.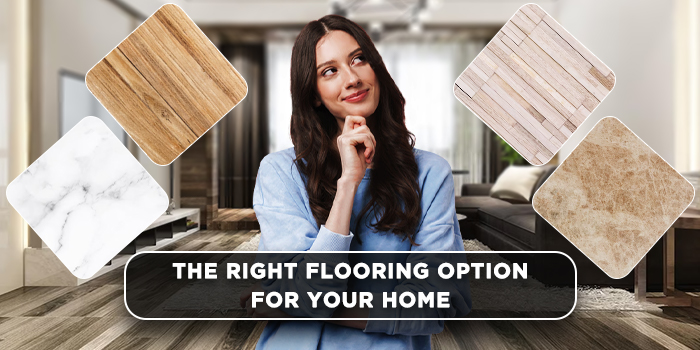 It's not just about aesthetics, rather, more about function. So, the nature of the space and its usage will both come into play. That means you might need different flooring solutions for the different rooms in your home. It also depends on the climate in your location, your lifestyle, the size and shape of the room and of course, your budget.

The look and feel of your floor will influence a whole lot of things that make up your interiors, including light fittings and wall shades, not to mention furniture. The flooring must be in sync with the overall design and spatial use of the area being covered, while ensuring visual appeal and longevity. So, choose your floor well.

What are the different flooring options you can choose from?

# Marble: Areas of your home which don't experience high foot traffic are suitable for marble flooring. It exudes a sense of class and also can last long, but must be used in the right spaces.




# Vitrified tiles: Vitrified tiles are a favoured flooring option for many homes and are made by adding silica and clay to the mix of ceramic tiles. Albeit somewhat more expensive than ceramic tiles, these are easily procured and easily laid. Besides, you can choose from a plethora of colour and pattern options for a really attractive flooring solution and a great alternative to granite or marble.

# Vinyl: If you have pets in the house, vinyl can be a great flooring option. It provides soft cushioning which can ensure traction for their limbs and help protect their joints. It also resembles wood in appearance and exudes the same sense of warmth as hardwood. Yet another plus working in favour of vinyl is that it's a wonderful sound absorber. So, you can cut out the reverbs on your favourite music.

# Wood: The biggest advantage of using hardwood for your flooring is that it's neutral and goes well with any style of interior irrespective of the colour palette or the design language you choose. Also, because of its innate durability, hardwood can increase the resale value of your home substantially. A note of caution though. In very humid conditions, wood flooring could swell and deform if not sealed well. So please take utmost care at the installation stage.




# Laminate: Since laminates are tough and can withstand a lot of stress, these constitute a great flooring option for areas that receive high foot traffic. Besides, laminates are easy to maintain and relatively less expensive, not to mention their versatility.

# IPS: Indian patent stone is another inexpensive flooring alternative. Made of concrete mix, IPS has a more rustic and unpolished veneer and is extremely durable. You can keep stains away if you take care with using sealing solution or a coat of wax.