Indians working abroad in rich countries usually manage to save a neat stash and are always looking for stable investment options to park their savings. Nothing provides a safer and more lucrative investment instrument than the real estate market back home, more so since many of them have plans to return to their homeland at some stage. There are a multitude of factors that have been enthusing non-resident Indians (NRIs) to buy property in India, not the least the falling rupee, less red tape in systems and processes of property transactions, improving infrastructure in Tier-2 cities and a more positive economic outlook overall when compared to many developed countries post-pandemic.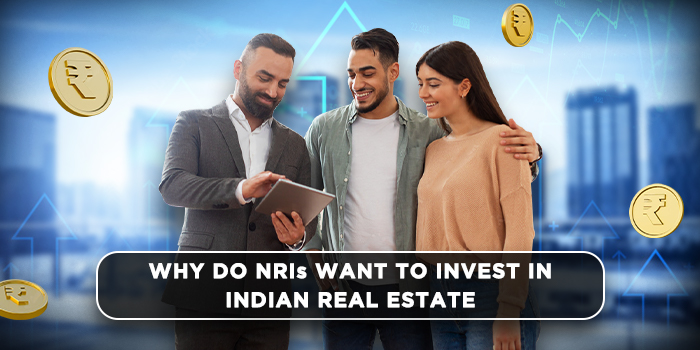 There has been a pronounced spike in demand for properties in India among NRIs of late, more so in the 35-45 age bracket who feel this would yield best long-term returns for them. In fact, a raft of premium real estate projects are being launched across Indian metros banking largely on NRI interest. Market analysts predict that by this yearend, cumulative NRI investment in the Indian real estate market is set to touch a whopping $14 billion!!

So what are the pluses in favour of NRI investors?

Dwindling INR: The Indian rupee has been in free fall since 2018, plumbing hitherto unknown depths. NRIs earning in much stronger currencies like the US dollar, the pound sterling, the euro or the dirham, have all sensed a golden opportunity to leverage that currency conversion edge in the Indian realty market and make hay while the INR continues to plunge.




Home back home: While most NRIs would like to return to India to spend their superannuation, an increasing number of young professionals working abroad are investing in second homes back home for their annual or half-yearly visits when they need their own space. At the same time, the asset keeps appreciating, hence giving them the twin benefits of abode and secure income. This trend is fast catching up as the profile of NRI buyers of Indian homes is getting younger.

Attractive returns: As a pure investment option, a property in India is a very attractive proposition in itself, since prices continue to appreciate all the time. While properties in top metro cities were always in demand, there is a new trend nowadays among NRIs from smaller, Tier-2 cities to invest in their hometowns. This is largely due to the infrastructure upgrade in many of these smaller cities and towns, including roads and transportation, better internet services, formatted retail, etc. Also, since the pandemic struck, the inherent security and support of the undivided family system have suddenly become valuable again to many young professionals. Hence the need for bigger homes (also to enable work from home), often in the locality where they grew up…

Less red tape, more transparency: With increased digitization of records in most departments leading to better coordination, the process of buying a property in India has become much simpler and more streamlined for NRIs. RBI and SEBI have also formulated fresh guidelines supporting FDI in the sector. Furthermore, with the introduction of the RERA (Real Estate Regulatory Authority) Act and other reforms, there is greater transparency in deals and more trust between buyer and seller. For NRI customers, this quality assurance and promise of redress in case of any irregularities, has created a much greater comfort level and ensured total peace of mind, thus buoying the NRI market share.




Plethora of options: With an abundance of stocks available not only in leading metros but also in Tier-2 cities, the NRI home-buyer now has a broad basket of real estate properties to choose from, across floor space and formats. The ready access to 3-D virtual tours of the properties has also made it easier for the NRI customer to browse and assess apartments in India sitting thousands of miles away, before making an informed choice. No wonder most real estate developers in India are now investing in a strong digital platform, which has become basic hygiene.